Technology Tips For Coaches
This page provides information to coaches on how to obtain the contact information for opposing coaches, fill out a game or referee report, and correct/update your own contact information in case an opposing coach needs to contact you.
Logging into the system
All rostered coaches have the ability to "login" to the system at www.ECYSA.org
- Prior to the season, the system sends out an email with login instructions and an auto-login link tied to your account. Please make sure to create a username (best not to use your email)/password in your "profile".
- If you logged in during a prior season, your access has not changed but if you have issues logging in - just send an email to technology@ecysa.org
- Once logged in as a coach, you should see a "Coach" option at the top of the screen. Holding the mouse over Coach should show you your team(s) and the options available to coaches: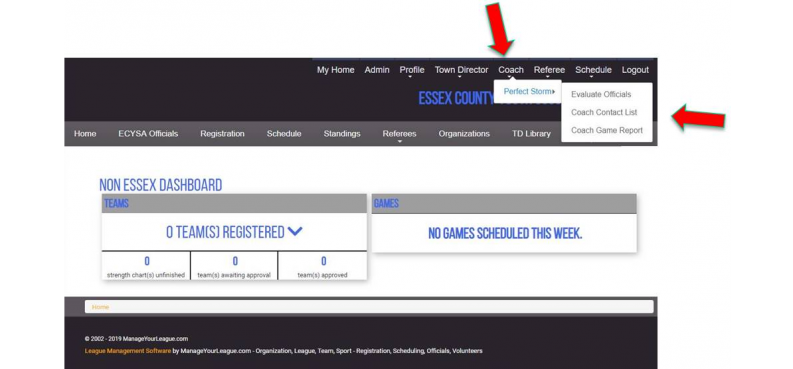 Clicking Team Name
Clicking a team name will show you the coaches, players (with ability to link to a "read only" profile for contact information), group schedule, and standings (unless you are G4 as G4 standings are not published).  Please note, this is NOT your official game day roster as you need to contact your TD to receive that.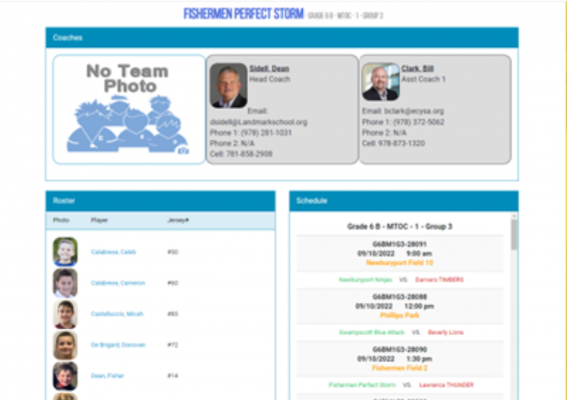 To Correct Your Own Contact Information
Sometimes the contact information we have for you in our system is out of date (or was never entered), has changed, etc. It's a simple matter for you to update the information in the EYCSA system. After logging in, click on the Profile option, and then your name.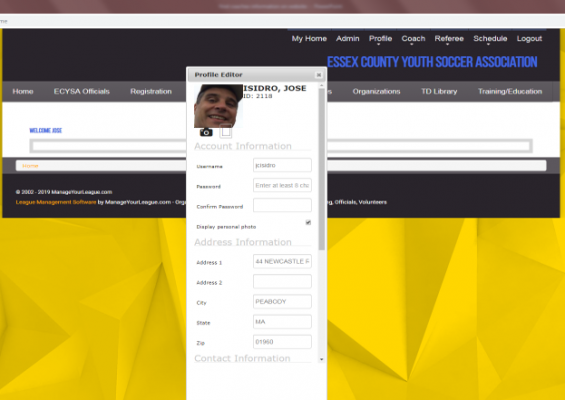 Then update the information in your profile. Please make sure to scroll to the bottom of the profile to click "save". If you have changes, you should also alert your town organization to make sure they make changes to their system as well.
Evaluate Officials
After a game is played, you can provide feedback on the official(s) with this form.  Select the game and submit the report…constructive feedback is requested and positive feedback is also appreciated. 

Once the game is completed based on the time block (eg. 9 am game technically runs until 10:30 am in our system), the coach (or coaches) can provide an evaluation of the official(s) based on selecting the game.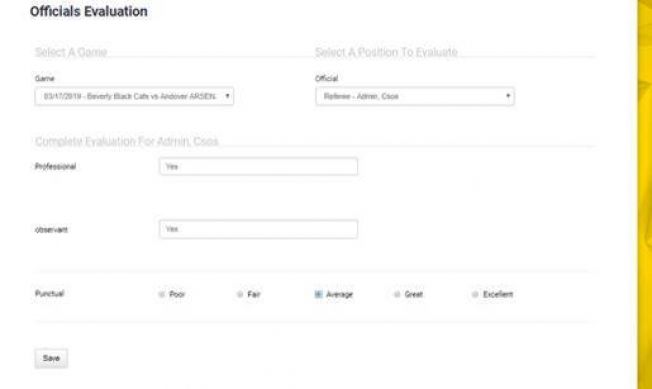 Coach Contact List
Dynamic view of contact information for other coaches. If a coach changes details in their profile, this list is automatically updated so make sure as a coach your contact information is correct.
- Sortable by column (click the up/down arrow to sort any column).
- Use this list to reach out to coaches pre-game greeting, game change agreements, etc.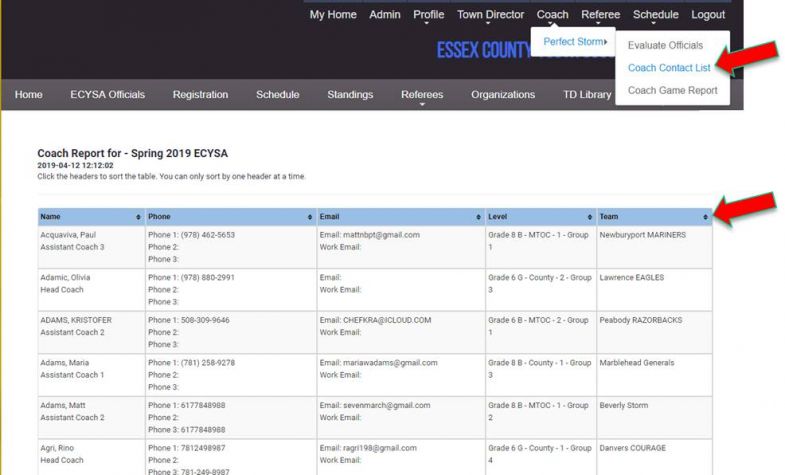 Coach Game Report (this is also where you submit scores)
 Once the game is completed based on the time block (eg. 9 am game technically runs until 10:30 am in our system), the coach (or coaches) can provide a game report with this form.  Select the game and submit the report.  Please feel free to always enter a game report/scores for your game (regardless or being home or away team) but especially in the case that you don't have a referee whereby the coach score entries will update the standings (assuming the coach scores match - if not, ECYSA will investigate).

The Coach Game Report is also where coaches enter the game score.  The referee reported score is the first default but the system will flag discrepancies so please feel free to enter every game score whether you are home or away.  This is also the report to provide details regarding field/site conditions and most importantly, any game issues that require commissioner review. 

Coach info card
The Coach Info Card is where coaches can print (in color) out their ECYSA coach card.  Put it in your sleeve with your MA Youth Credential.


Game List - printable game cards
Online game cards - there will no longer be game cards issued to coaches before the season starts.  Game cards will be able to be printed by coaches directly from the system.  Head coaches are still responsible for bringing a printed game card to home games.  After the game, the referee will fill out the game card as usual, and coaches will be able to take a picture of the game card if they wish.